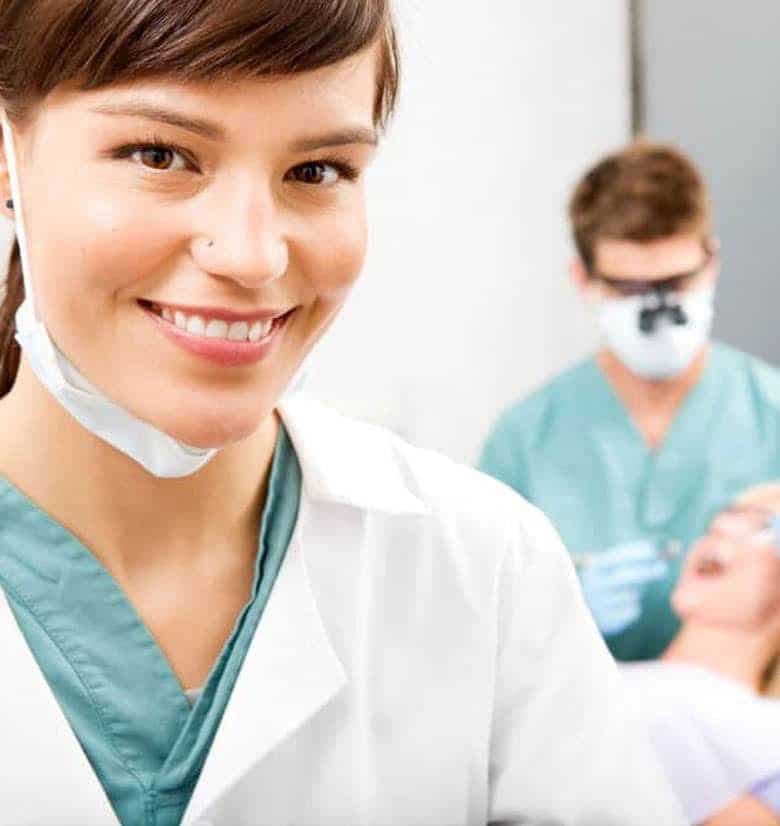 What Are My Career Options and Job Description as a Dental Assistant?
Dental assistants greatly increase the efficiency of the dentist in the delivery of quality oral health care and are valuable members of the dental care team. If you enjoy working with your hands as well as your mind and want a career with responsibility, dental assisting is for you.
Being a dental assistant offers many other options aside from working chairside with the dentist. Many financial coordinators, treatment counselors and office managers got their start and have a background as a dental assistant. Insurance companies hire dental assistants as consultants as well as other positions related to claims review and processing. Dental assisting can also open the door to a vast array of job positions in healthcare business, healthcare sales, consulting and management. Some of our graduates have gone on to become Dental Hygienists and even Dentists.
Schedule a tour today and take your first step toward a very bright future!
Let's take a look at the job description of a dental assistant according to the American Dental Association:
Job Description
The duties of a dental assistant are among the most comprehensive and varied in the dental office. The dental assistant performs many tasks requiring both interpersonal and technical skills. Responsibilities of a dental assistant include:
assisting the dentist during a variety of treatment procedures
taking and developing dental radiographs (x-rays)
asking about the patient's medical history and taking blood pressure and pulse
serving as an infection control officer, developing infection control protocol and preparing and sterilizing instruments and equipment
helping patients feel comfortable before, during and after dental treatment
providing patients with instructions for oral care following surgery or other dental treatment procedures, such as the placement of a restoration (a filling or crown)
teaching patients appropriate oral hygiene strategies to maintain oral health (toothbrushing, flossing and nutritional counseling)
taking impressions of patients' teeth for study models
performing office management tasks that often require the use of a personal computer
communicating with patients and suppliers (i.e. scheduling appointments, answering the telephone, billing and ordering supplies)
helping to provide direct patient care in all dental specialties, including orthodontics, pediatric dentistry, endodontics, periodontics and oral surgery
Career Advantages
Variety: Dental assisting is a challenging and rewarding career, demanding versatility and a willingness to assume responsibility for many different tasks
Flexibility: Since dental assistants are in demand, career options include both full-time and part-time positions
Excellent working conditions: Dental offices are interesting, pleasant, people-oriented environments in which to work
Personal satisfaction: Dental assisting involves people contact, and with this personal interaction comes the personal satisfaction of knowing you've helped someone by helping to provide valuable health service.
Opportunities
Since many dentists employ two or more dental assistants, employment opportunities in this field are excellent. The types of practice setting available to dental assistants include:
solo dental practices (practices with only one dentist)
group practices (practices with two or more dentists)
specialty practices, such as oral and maxillofacial surgery (removal of teeth and correction of facial deformities), orthodontics and dentofacial orthopedics (straightening teeth with braces or other appliances), endodontics (root canal treatment), periodontics (treatment of gum problems), prosthodontics (replacement of lost teeth) and pediatric dentistry (treatment of children)
public health dentistry, including settings such as schools and clinics which focus on the prevention of dental problems within entire communities
hospital dental clinics, assisting dentists in the treatment of bedridden patients
dental school clinics, assisting dental students as they learn to perform dental procedures
Other career opportunities for dental assistants include:
insurance companies, processing dental insurance claims
vocational schools, technical institutes, community colleges dental schools and universities, teaching others to be dental assistants (which may require associate or baccalaureate college degrees)
dental product sales representatives
Take advantage of the only course taught in an actual practicing dental office.