Complete our accelerated Dental Assisting program at a fraction of the time and cost of most Dental Assisting programs. We are the only program offered in a practicing dental office. Our program is not only more affordable, but we find that learning by example, in a practicing dental office, is more effective and faster than learning by textbook. The charts below reflect comparison to other local Dental Assisting programs.
Job placement assistance is available. Dentists and dental offices contact our program when looking for qualified Dental Assistant graduates. We also continually contact local dentists to notify them of upcoming graduating classes.
If you are a local Dental Office looking for a fantastically trained extern or new employee, please contact Dental Assisting Institute at
(209) 527-0101.
Take advantage of the only course taught in an actual practicing dental office.
Learn state-of-the-art methods in dental assisting. 
Benefit from our twenty years + of experience.
Graduate with certification from the California Dental Board in Radiation Safety so you can take x-rays), Infection Control,Dental Practice Act and CPR.
Enter the work place with the real working experience dental employers are looking for. 
Get a great schedule. You can complete the entire course in 12 Saturdays!
Study at a locally owned school that cares about you & your success.
Learn from the best teachers and incredible mentors that are here for you now and in the future.
GO WITH THE BEST! GO WITH DENTAL ASSISTING INSTITUTE!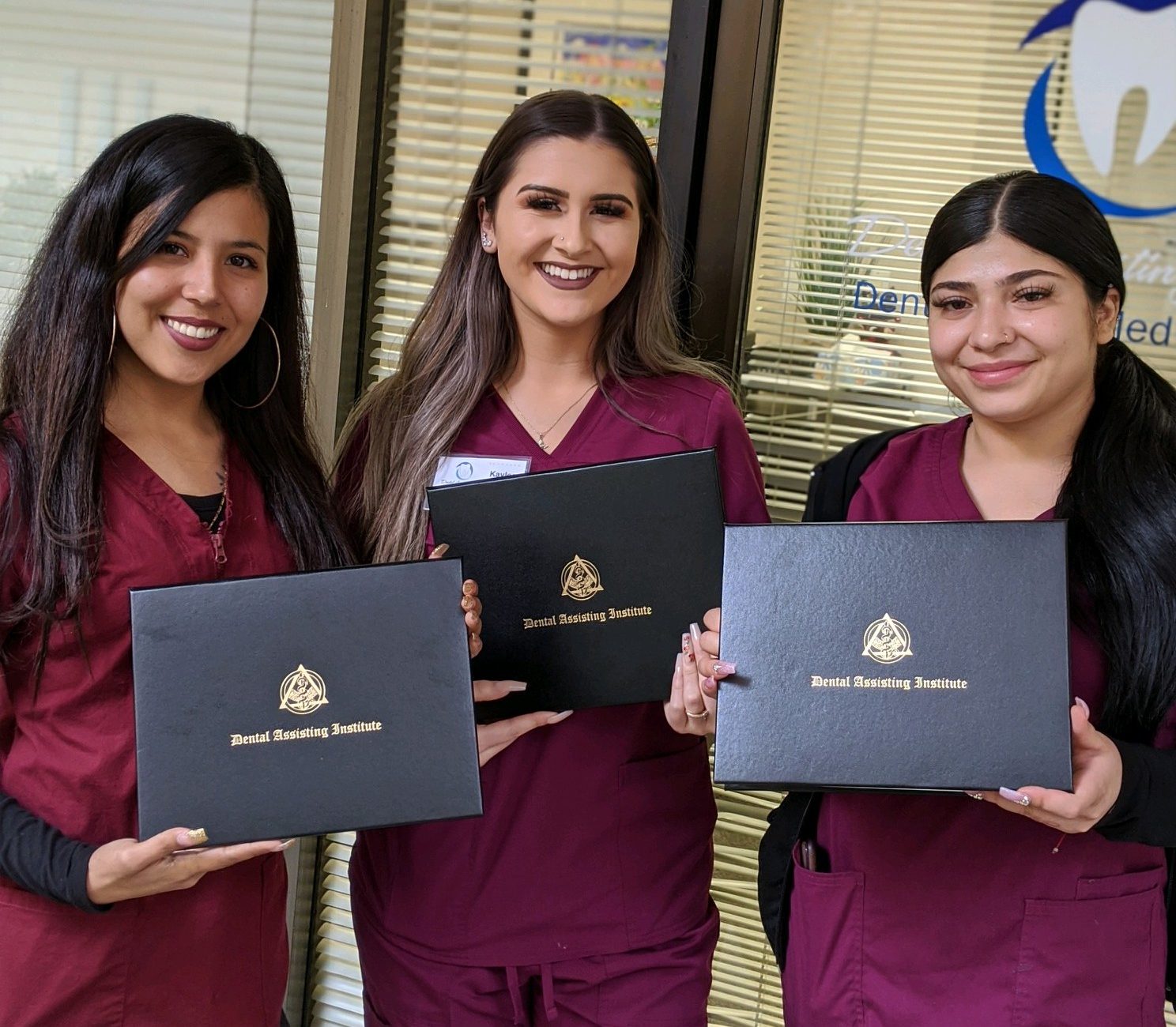 Average Income for
a Dental Assistant
Average Teacher
Years of Experience

"Enjoyed taking Coronal polishing course"
"I enjoyed taking the Coronal polishing course. So hands on. And Shelly and Nick are great instructors. Definitely coming back for future courses."
Alberto L

"I participated in the twelve week dental"
"I participated in the twelve week dental assisting course, and it has been one of the best experiences. There are many advantages to taking this course along with having amazing instructors. Joni is the best!"
Cicily P

"The twelve week program was amazing!"
"The teachers were awesome Joni, Nick, Betty, and Shelly. I can't believe how much I learned in such a short time. It was an incredible experience and I will miss my classmates and the teachers. You guys rock!"
Amy D

"
I had a great experience with DAI

"
"I had a great experience with DAI in Coronal Polish. Shelly and Nick are awesome instructors. I am very excited to take my RDA exam. They answered all my queries.."
Prabhdil B