The Dental Board of California certifies Dental Assisting Institute's Coronal Polishing Course and successful completion is required in order to take the RDA examination. The course is divided into 3 sections, (a) 4 hours of didactic training, (b) 4 hours of laboratory/pre-clinical training and (c) 4 hours of clinical training.
Each student must satisfactorily demonstrate to the instructor clinical competency in infection control requirements prior to clinical instruction in coronal polishing.
The areas of instruction include the following as they relate to coronal polishing:
Coronal Polishing Basics
Legal requirements
Description and goals of coronal polishing
Indications and contraindications of coronal polishing
Criteria for an acceptable coronal polish
Principles of plaque and stain formation
Clinical description of plaque, intrinsic and extrinsic stains and calculus
Etiology of plaque and stain
Clinical description of teeth that have been properly polished and are free of stain
Tooth morphology and anatomy of the oral cavity as they relate to polishing techniques and to retention of plaque and stain
Polishing materials
Polishing agent composition, storage and handling
Abrasive material composition, storage, handling and factors that affect rate of abrasion
Disclosing agent composition, storage and handling
Armamentaria for disclosing and polishing techniques
Contraindications for disclosing and polishing techniques
Principals of tooth polishing
Clinical application of disclosing before and after a coronal polish
Instrument grasps and fulcrum techniques
Purpose and techniques of the mouth mirror for indirect vision and retraction
Characteristics, manipulation and care of dental handpieces when performing a coronal polish
Pre-medication requirements for the compromised patient
Use of adjunct materials for stain removal and polishing techniques
Techniques for coronal polishing of adults and childres
Procedures for cleaning fixed and removable prosthesis and orthodontic appliances
Disclosing and polishing evaluation criteria
Take advantage of the only course taught in an actual practicing dental office.
Learn state-of-the-art methods in dental assisting. 
Benefit from our twenty years + of experience.
Graduate with certification from the California Dental Board in Radiation Safety so you can take x-rays), Infection Control,Dental Practice Act and CPR.
Enter the work place with the real working experience dental employers are looking for. 
Get a great schedule. You can complete the entire course in 12 Saturdays!
Study at a locally owned school that cares about you & your success.
Learn from the best teachers and incredible mentors that are here for you now and in the future.
GO WITH THE BEST! GO WITH DENTAL ASSISTING INSTITUTE!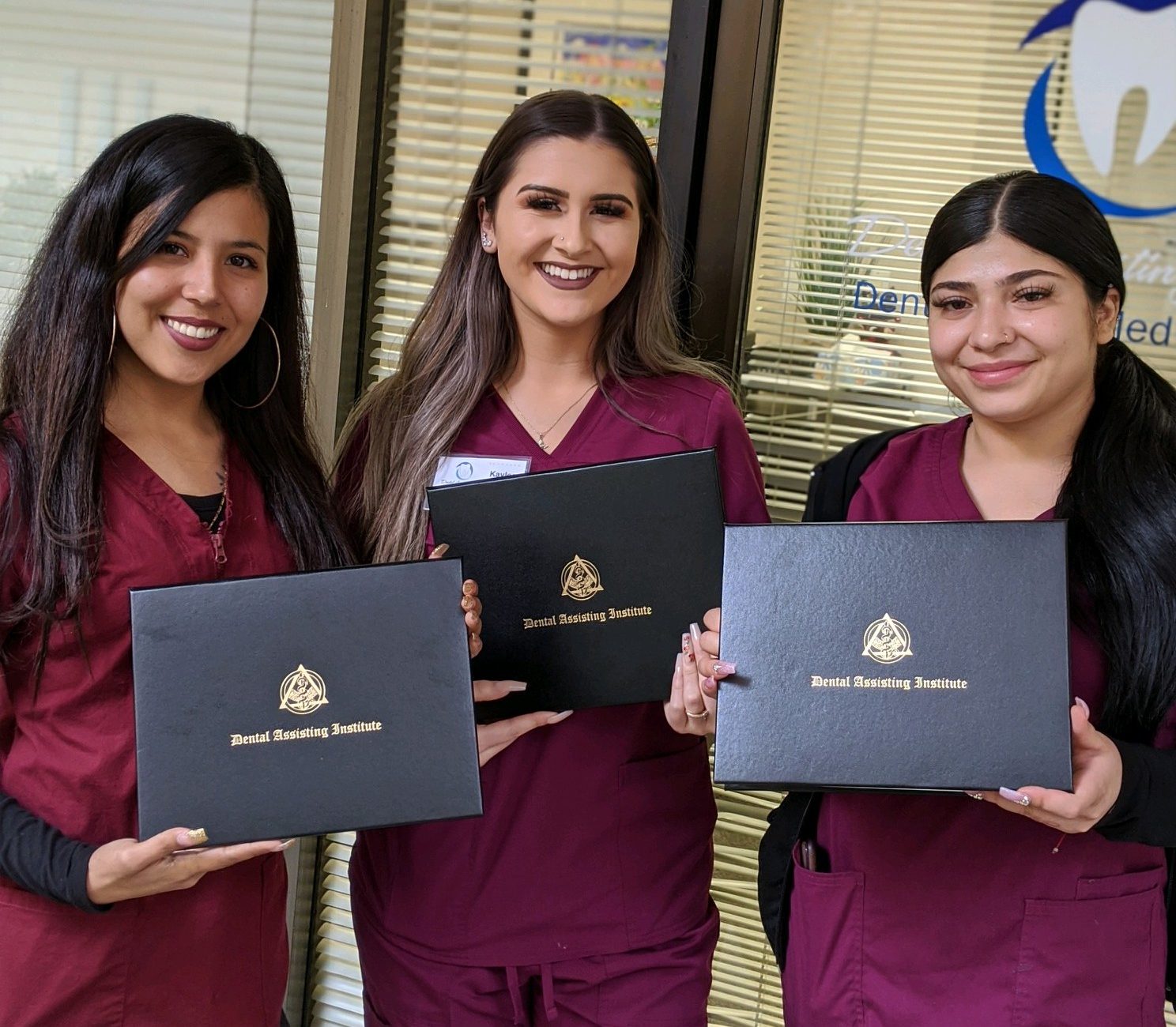 Average Income for
a Dental Assistant
Average Teacher
Years of Experience

"Enjoyed taking Coronal polishing course"
"I enjoyed taking the Coronal polishing course. So hands on. And Shelly and Nick are great instructors. Definitely coming back for future courses."
Alberto L

"I participated in the twelve week dental"
"I participated in the twelve week dental assisting course, and it has been one of the best experiences. There are many advantages to taking this course along with having amazing instructors. Joni is the best!"
Cicily P

"The twelve week program was amazing!"
"The teachers were awesome Joni, Nick, Betty, and Shelly. I can't believe how much I learned in such a short time. It was an incredible experience and I will miss my classmates and the teachers. You guys rock!"
Amy D

"
I had a great experience with DAI

"
"I had a great experience with DAI in Coronal Polish. Shelly and Nick are awesome instructors. I am very excited to take my RDA exam. They answered all my queries.."
Prabhdil B