Frequently Asked Questions
What makes Dental Assisting a good career choice?
– Job Security: The United States Department of Labor projects Dental Assisting jobs to grow at a much faster rate than average. So let's put job security at or near the top of the list.
Job Freedom: No more working nights or weekends
Financial Freedom: Great pay and many employers offer medical benefits, retirement plans, paid vacation/sick days and paid holidays?
Is your program certified?
Dental Assisting Institute is certified by the California Bureau for Private Postsecondary Education and we are also approved by the California Dental Board to certify our students in Radiation Safety, 8 Hour Infection Control, California Dental Practice Act, Coronal Polishing and Pit and Fissure Sealants.
Who can take the course ?
If you are over 18 years of age with a high school diploma or GED, you are welcome to take the course. For those without a high school diploma we offer a straightforward "ability to benefit" exam that is state approved for entrance to the program. High school seniors can take the course with parent's permission.
How much does the program cost?
The cost of the 12 weeks Saturday Dental Assisting Program is $7,495.00 which includes all books, lab and clinical materials, x-ray film, Radiation Safety Certification, 8 Hour Infection Control Certification, Dental Practice Act and CPR Certification. We have different financing options available that most of our students can qualify for. Call us today at (209) 527-0101 to schedule an appointment with our Program Coordinator. You can find the cost of each specialty program on the registration forms that can be downloaded from the specialty course area of the website.
How does the program compare to longer Dental Assisting Programs ?
Our program focuses primarily on hands on learning. The curriculum is overseen by a licensed Dentist and taught by experienced Registered Dental Assistants. We find that learning by example is not only more effective, but also faster than learning by textbook. We also find that our students are better trained for the workplace using this method. While other programs can last up to two years and be up to ten times the cost, we find you are better clinically trained and more job ready after our 12 week program.
When are your classes scheduled ?
Our classes are scheduled on Saturdays and do not interfere with your work or home schedules from Monday to Friday. You can train for your new career without any interruption to your usual weekday routine.
Do you offer financing ?
We have a number of financing programs available that everyone can qualify for. Call us today at (209) 527-0101 to schedule an appointment with our Program Coordinator to discuss these options.
Do you offer job placement ?
Yes! Job placement assistance is available. Dentists and dental offices contact our program when looking for qualified Dental Assistant graduates. We also continually contact local dentists to notify them of upcoming graduating classes.
How do I enroll ?
Its easy! Call us today at (209) 527-0101 or (559) 777-4146 to schedule a tour and talk to our Program Coordinator. You can take a giant step towards beginning a new career today with one phone call.
The enrollment forms for our specialty courses can be downloaded from the website.
Take advantage of the only course taught in an actual practicing dental office.
Learn state-of-the-art methods in dental assisting. 
Benefit from our twenty years + of experience.
Graduate with certification from the California Dental Board in Radiation Safety so you can take x-rays), Infection Control,Dental Practice Act and CPR.
Enter the work place with the real working experience dental employers are looking for. 
Get a great schedule. You can complete the entire course in 12 Saturdays!
Study at a locally owned school that cares about you & your success.
Learn from the best teachers and incredible mentors that are here for you now and in the future.
GO WITH THE BEST! GO WITH DENTAL ASSISTING INSTITUTE!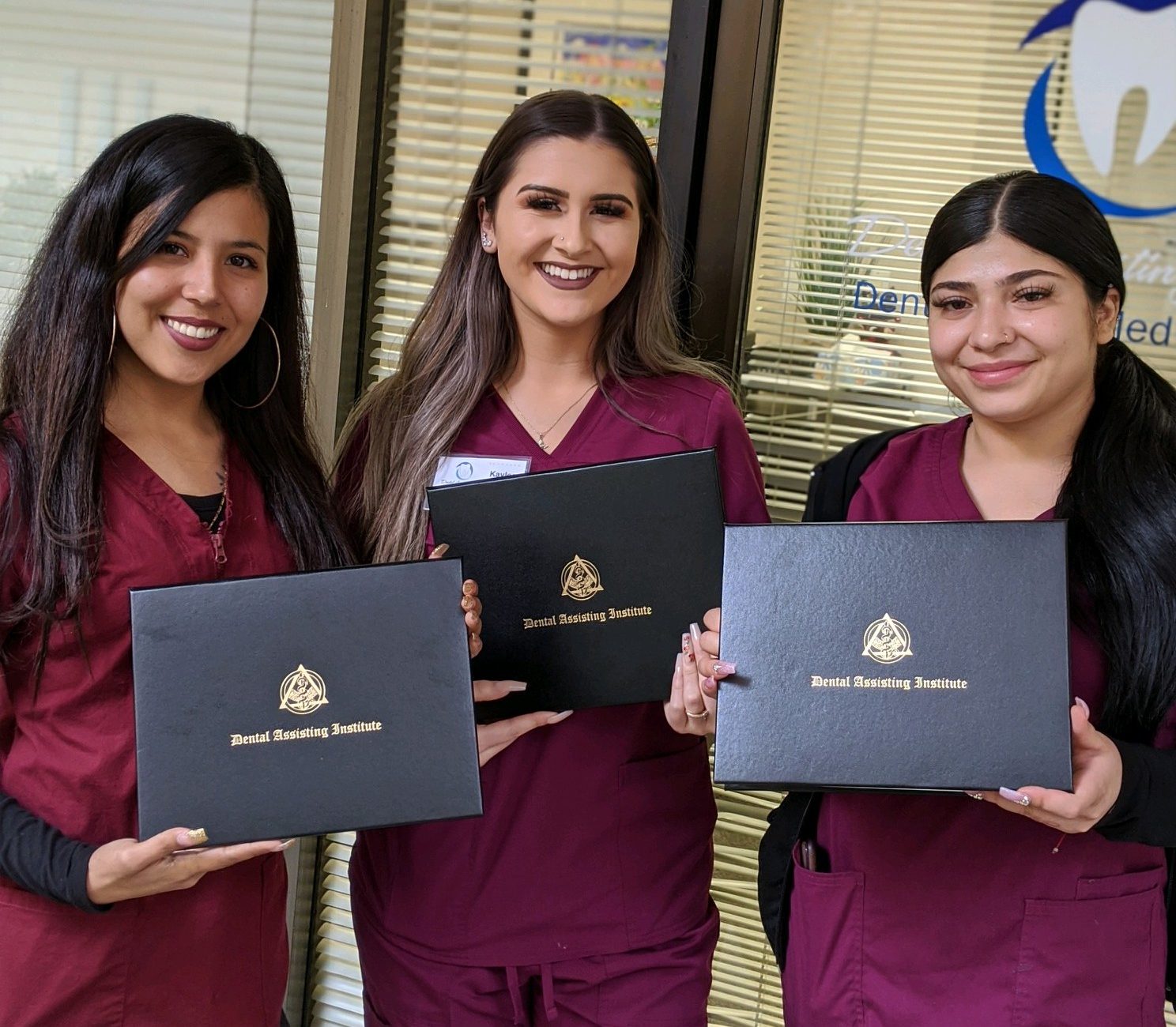 Average Income for
a Dental Assistant
Average Teacher
Years of Experience

"Enjoyed taking Coronal polishing course"
"I enjoyed taking the Coronal polishing course. So hands on. And Shelly and Nick are great instructors. Definitely coming back for future courses."
Alberto L

"I participated in the twelve week dental"
"I participated in the twelve week dental assisting course, and it has been one of the best experiences. There are many advantages to taking this course along with having amazing instructors. Joni is the best!"
Cicily P

"The twelve week program was amazing!"
"The teachers were awesome Joni, Nick, Betty, and Shelly. I can't believe how much I learned in such a short time. It was an incredible experience and I will miss my classmates and the teachers. You guys rock!"
Amy D

"
I had a great experience with DAI

"
"I had a great experience with DAI in Coronal Polish. Shelly and Nick are awesome instructors. I am very excited to take my RDA exam. They answered all my queries.."
Prabhdil B